Isola Bella
(1984)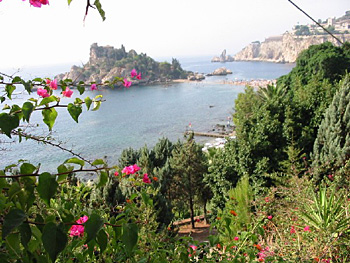 Isola bella, my paradise,
my island, my beach, my sun, my sea.
That other up there, no, that doesn't count now anymore.

I am looking at you, I am taking you in,
your beauty, your nature.
How beautiful life is after all,
every day, every night, on every hour.

Your contours in the night don't fade away .
You are always there for me, arisen out of the sea.
I want to embrace you, please don't say no !
To find you I had to go far,
I am obsessed by you.
Please don't let me stay far away from you.

Take me in, do swallow me up.
I can cry for you, you are so beautiful and mysterious.
Because of you, I feel it, I have eternal life, really.